Steel Wire Ropes:
Albader services have a very good stock of wide variety of steel wire ropes with different constructions.A wire rope consists of a number of wire strand formed helically about a central axis. [READ MORE]
---
Grade 30- Proof coil chain (SF: 4:1)

Carbon Steel
Permanently embossed 30 (Grade)
Finish : self-colored and galvanized
Size: 4mm – 25mm
Working Load Limit: 180kg – 8140 kg
---
Albader  services supply a comprehensive range of Steel wire rope slings with end fittings in accordance with BS EN and ASME B 30.9 standards. Slings are coming with single leg or multi leg slings with appropriate end fittings, Wire rope slings cover all general lifting applications.
---
FLAT POLYESTER WEBBING SLINGS. (Single & Multi legs)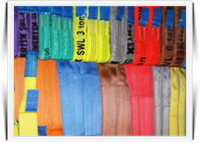 Albader  offers  synthetic web slings for rigging purposes.  The most commonly used synthetic web slings are made of nylon- or polyester-type yarns. They have the following properties in common:
---
 We thank our valuable customers for their continued Support having good business relationship and invite new customers to visit at our showroom in Dammam.
---
---