Steel Wire Ropes:

Albader Trading services have a very good stock of wide variety of steel wire ropes with different constructions.A wire rope consists of a number of wire strand formed helically about a central axis.
The most popular ropes have six or eight strands supported by an axial member known as the core.
There are other constructions, but they are less common. Each strand is composed of a number of individual
wires which have been formed helically about an axial member called the center. This center supporting member of the strand is generally one or more wires; however, it may be natural fibers (cotton, hemp, sisal, etc.) or synthetic fibers (rayon, nylon, polypropylene).
Stainless Steel Wire:

Wire ropes made of stainless steel wire are extremely resistant to corrosion and moreover, to temperature up to 1050˚C. Originally only the AISI types 304 and 302 were used for rope making but today almost all our stainless steel wire ropes are made of steel according to AISI type 316 which has better mechanical properties and a higher resistance to electrolytic corrosion, which increased resistance to sea water.
Tensile Strengths of Steel Wire:
Steel wire is made in various tensile strength to meet the different requirements of a particular job.
For the production of our ropes,
We use wire in the following tensile strength ranges:

1470 N/mm² (150 kgf/mm²)
1570 N/mm² (160 kgf/mm²)
1770 N/mm² (180 kgf/mm²)
1960 N/mm² (200 kgf/mm²)
2160 N/mm² (220kgf/mm²)
Tensile Grades :
Manufacturing Standards
| | | |
| --- | --- | --- |
| ISO | Metric | American |
| 2160 N/mm² | 220 kgf/mm² | Extra Extra Improved Plow Steel (EEIPS) |
| 1960 N/mm² | 200 kgf/mm² | Extra Improved Plow Steel (EIPS) |
| 1770 N/mm² | 180 kgf/mm² | Improved plow steel (IPS) |
| 1570N/mm² | 160 kgf/mm² | Plow Steel(PS) |
| 1420N/mm² | 145 kgf/mm² | Traction steel |
Rope Cores:
Ropes are supplied either with fiber or steel core, the choice being largely dependent on the application.
Wire Rope Lay:
The direction of lay or rotation of the strands is normally right hand .But some machinery needs left hand lay
| | |
| --- | --- |
| Purpose | Minimum safety factor |
| Elevator | 10 |
| Crane , Hoist ,derrick, sling | 6 |
| Guy or stay ,Horizontal pull or Traction | 4 |
| Main Wire of Aerial Ropes Way | 3 |
DIFFERENT STEEL WIRE ROPE CONSTRUCTIONS AND APPLICATIONS.
These suggestions should therefore be taken as a guide where no other guidance exists or as possible alternatives where one construction has been found unsatisfactory.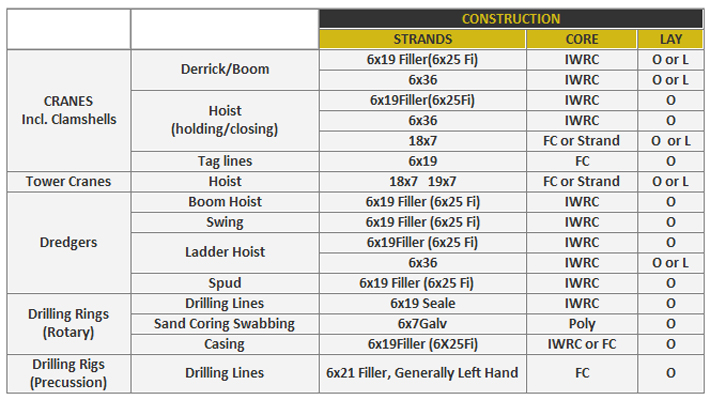 CROSS SECTIONS OF STEEL WIRE ROPE:
STAINLESS STEEL, GALVANIZED & PVC COATED WIRE ROPES:
Stainless steel wire rope
FIBER ROPES:
Specification for 3 Strand Ropes
3 strand plain or hawser laid monofilament and fibrillated film ropes from 2mm to 60 mm dia.

4 strand monofilament and fibrillated film ropes from 10mm to 60mm dia.
8 Strand Plaited Monofilament, Fibrillated and Multifilament Ropes From 36mm To 120mm Nominal Dia.
Ropes can be manufactured from polypropylene, high density polyethylene, polyamide (nylon) and polyester to meet end users requirements. Different colors and shades of color can be manufactured as per customer's requirements.